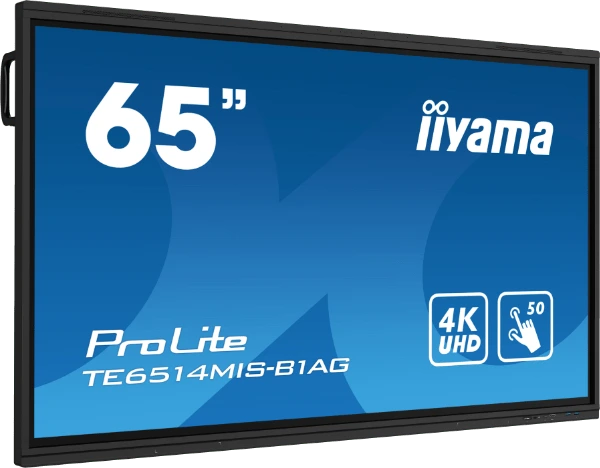 iiyama ProLite 65" 4K Interactive Panel (TE6514MIS-B1AG)
SKU: TE6514MIS-B1AG
by iiyama
Inspiring immersive collaboration for education and enterprise, the TE6514MIS-B1AG from iiyama is a hybrid interactive solution, allowing you to smoothly annotate in 4K and control any content on the display from any source.
This PureTouch-IR+ 50-point Touchscreen with iiWare 11 (Android 13 OS) features Note, Browser, Cloud Drive and the option for you to sideload relevant apps. Incorporating additional USB-C connections, the display supports the latest in video, audio and Touch signal via a single port and it allows you to charge your device with 100W power delivery. You can be sure that no matter what your Interactive aspiration, iiyama has the simplified solution just for you.
Boasting a new Android 4K Interface (iiWare 11) with User Profiles for simple login and access to your very own bespoke menu and Cloud Drives, this 65" Touchscreen becomes a highly personalised device. Benefit from the flexibility and clarity that the 65" VA panel offers, providing vibrant, detailed and high-quality images from anywhere in the class or meeting room. The anti-glare coating drastically reduces ambient reflection in high-brightness environments without compromising the sharpness and clarity of the image.
The high quality built-in 8-Array Microphone and powerful Dual Directional Speakers support conferencing configurations and our 500Hz Frame Rate Touch sensor delivers the smoothest and fastest Touch response ever seen with added Touch features like Dual Palm Rejection and Anti-Bacterial Pens for safety in multiple user environments. Easily save your notes and on-screen content directly to a USB device, 64GB internal memory or a selected cloud drive.
The new Multi-Screen Display feature allows you to link multiple screens and run as many different applications as you need for dual and triple display integration in large spaces like lecture amphitheatres and large meeting/boardrooms